How Do My Contacts Opt Out and How Do I Know They Opted Out?
How to Opt Out?
Your contacts can simply reply to your SMS message with a single-word message STOP, END, CANCEL, UNSUBSCRIBE, and QUIT and they will be automatically excluded from future texts. The keywords are not case sensitive. NOTE: Opting out from SMS messages does not opt out from email distribution.
How Do I Know My Contact Opted Out?
Create an Active List in HubSpot
Step 1 - Make sure you are logged in to your marketing dashboard. Navigate to "Contacts" on the top and select "Lists."

Step 2 - Hit "Create a List" on the right.
Step 3 - Select "SMSZap: SMSZap Opted Out"
Step 4 - Select "From"
Step 5 - Select "is known" and hit "Apply Filter"

Step 6 - Name your list, e.g. "Opted Out" and hit the "Save" button. Go back to your lists, and you will see a newly created list with all opted-out contacts.

Pull a Report From SMSZap for opted-out messages
Go to your SMSZap Activity report https://app.smszap.com/sms-activity and in the top right corner filter the messages by "opted-out." This report will show all outbound messages that were attempted to send to contacts that opted out.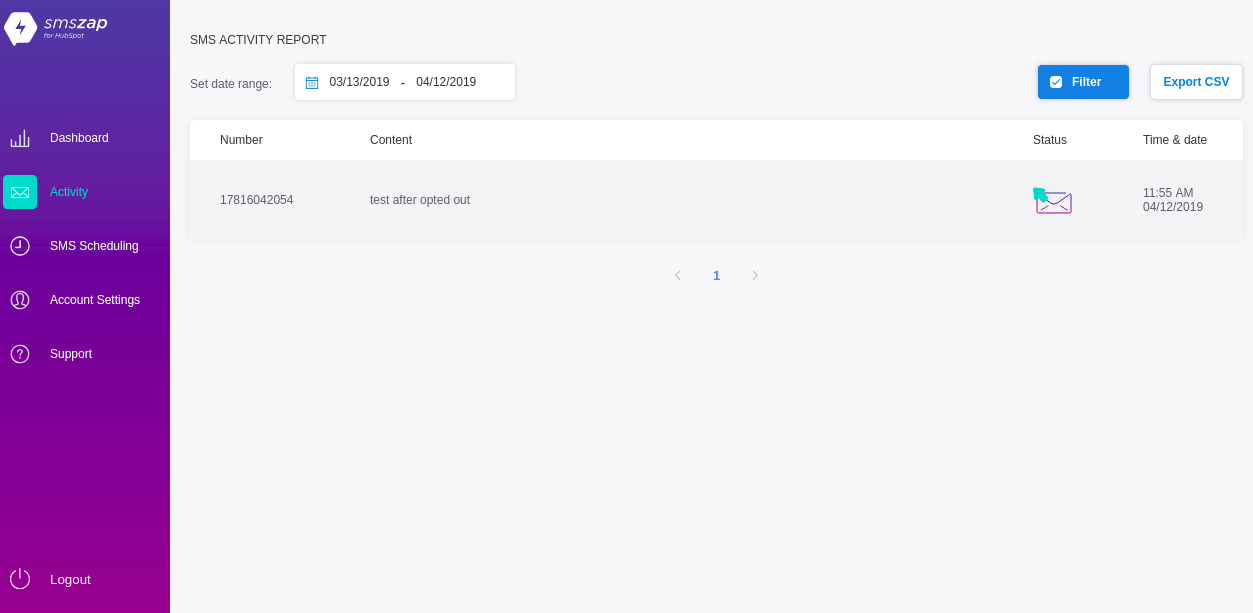 Here you can see all opted-out contacts. Additionally, you can click on "Export CSV" and have the replies exported to a CSV spreadsheet.
Note: The outbound messages attempted to send to opted-out contacts will be blocked by SMSZap and no charges for those messages will take place.